Welcome to the Myths and Legends Convention!
Dates: August 12 – 14, 2016
Location: Ramada Plaza Denver North
Westercon 71 Bid
Myths and Legends won the bid to host Westercon 71 in Denver in 2018! Find out more at westercon71.org.
2016 Guest of Honor: Jim Butcher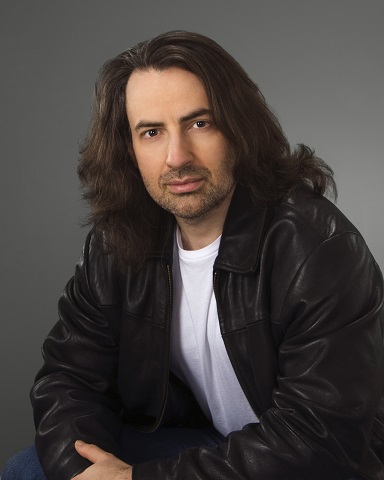 Author of Codex Alera, Cinder Spires, and oh yes,The DRESDEN FILES!
That's right! Author Jim Butcher is our featured Guest of Honor for the Myths and Legends Convention 2016!
MALCon fans have been asking for a focus on the Dresden Files for a few years, and this year we're doing it in style, bringing in the creator of the curmudgeonly yet well-loved wizard private investigator. Now if only we can get Main Events to look like McAnally's Pub…
---
2016 Musical Guest of Honor:
The Doubleclicks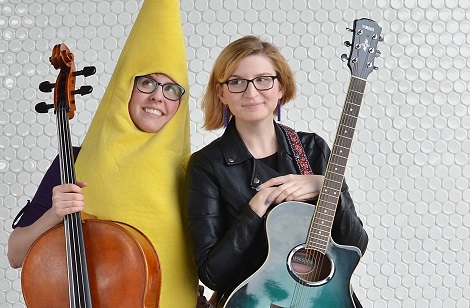 The Doubleclicks are coming to MALCon!
The Doubleclicks are a nationally-touring, Billboard charting nerd band with a cello, a meowing cat keyboard, and songs about dinosaurs, Cats & Netflix, space and Dungeons and Dragons. Their YouTube videos boast over 2 million views and have been featured on BoingBoing, Kotaku, the Huffington Post, and on NPR shows "Live Wire" "All Things Acoustic" and "State of Wonder." Find out more at http://thedoubleclicks.com.
---
Peri Charlifu – Artist Guest of Honor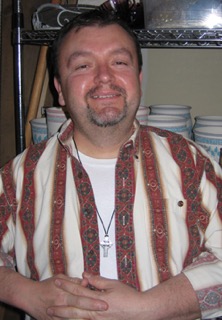 Peri Charlifu was born in 1962 in Alamosa Colorado, his Father was an art teacher and his Mother was a social worker. His Mother is now retired and living in Aurora Colorado. He grew up in Denver and Aurora Colorado, studying art from an early age and continuing to this day. He attended Metropolitan State Collage and studied Art, Psychology and combined his studies using Art as therapy. He now does Art full time.
Peri has been selling his work for 34 years, and has been selling almost exclusively in the science fiction convention market for almost 11 years. He teaches workshops and seminars in Pottery, sculpture and theory on a regular basis. He is Guild master for Art and Artisans and a founding member of the Stoneleaf potters guild.
Although an accomplished and proficient graphic artist, Peri's first love is pottery. He is highly skilled in both Wheel thrown and hand-built work. He mixes all his own stains and glazes, and has developed an underglaze technique that he uses in 90% of the items he produces. At the time of this writing, Peri has produced over 37,000 pieces of pottery.
---
Musical Guest S.J. Tucker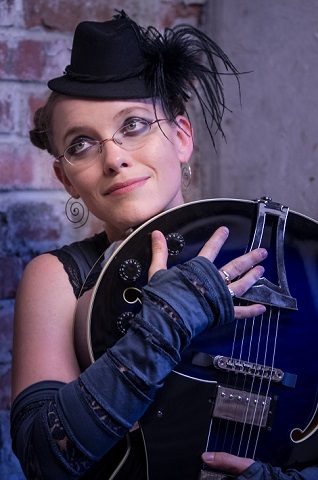 S. J. Tucker came flying out of the Memphis music scene in 2004, guitar in hand and voice at the ready, and her feet have hardly hit the ground since. The varied elements of jazz, folk, blues, rock, goth-industrial and fairytales join forces and strike out for home in her storyteller's playful fusion of styles. She tours extensively as a solo artist in the United States and Canada, also producing shows from coast to coast with her Celtic fusion trio Tricky Pixie, and often sharing the stage with the Heather Dale Band. S. J., called Sooj by fans and friends, loves her job best when she can fuse folklore and mysticism, to embody and strengthen the concept of that voice in the dark that leads us out of our comfort zone and into new worlds. Her lyrical subject matter zips unapologetically from the silly to the sacred and back again, now introducing a new pirate shanty or a drum-heavy crowd favorite like "Firebird's Child", now crooning a lullaby, a ghost story, or a hymn to the Trickster deities with equal ease. Sooj is very active as a performer and participant in the greater Pagan community and in various branches of scifi and fantasy fandom, and she is considered a vanguard of the Mythpunk movement. She is proud to contribute to the soundtrack of fannish life, and she lends her songs to its engine whenever possible.
Listen for free and join the fan family at http://sjtucker.com
---
General Information:
What is the Myths and Legends Convention? We celebrate our modern myths and legends at our annual Convention. For 2016 we are focusing on Firefly, Doctor Who, Harry Potter, Supernatural, Game of Thrones, and Dresden Files .
Join us for tea dueling and dancing, panels and programs, make-and-takes and interesting guests, as well as a vendor room full of hand-made fan-oriented items and an art show with custom made items to enhance your body and home.
Policies:
Accessibility Policy
Clothing and Weapons Policy
Property Damage Policy
Safe Space Policy
Convention Hours: Friday 5 pm – Midnight,
Saturday 9 am – Midnight, Sunday 9 am – 4:30 pm
Registration Hours: Friday 3 pm – 8 pm,
Saturday 9 am – 7 pm, Sunday 9 am – 3 pm
Vendor Hours: Friday 5 pm – 9 pm,
Saturday 10 am – 8 pm, Sunday 10 am – 4 pm
We will be back at the Ramada Plaza Denver North at 10 E 120th Ave, Denver, CO 80233. (ask for group CGMAL4!)
Purchase passes here.
Find out more about passes here.
---
See a write-up about Myths and Legends  Convention at examiner.com.
Check out our 2015 gallery!
---
---
Sign up for Myths and Legends email!
---